"First impressions are always unreliable." —Franz Kafka
The first time I asked what commissioning was, I was given an all too familiar answer: "They come here and tell you everything you did wrong." Being a young HVAC apprentice, I believed that and came to dread the commissioning process. People I did not know were going to dissect my work and put a spotlight on every mistake I made. The idea of being under a microscope at such a vulnerable stage of my career was frightening. It can be for many contractors. Other workers are annoyed by the added expectations and try to disassociate themselves from it. However, after being involved in several commissioned projects, I realized that it should not be feared or avoided. It should be embraced.
"Perfection is not attainable, but if we chase perfection, we can catch excellence."
–Vince Lombardi
Transitioning from an apprentice to a supervisor was the catalyst for my change in attitude towards commissioning. I was no longer able to pass problems along to my supervisor or point to them when questions arose. It was on me. I learned quickly that it was in my best interest to work with commissioning providers. I began to view commissioning as a safety net instead of a spotlight. When issues were brought to my attention, I was given the opportunity to correct them before they became bigger problems for myself or the owners. The end result was always a more complete system for the end user and the satisfaction of another job well done.
"Teamwork divides the task and multiplies the success." –Unknown 
In winter of 2021, I was the lead HVAC startup technician for a 200,000+ square foot building with four tenant fit outs happening at the same time. I had a great team of young technicians and apprentices, but we had a lot of work in front of us. When I was informed that one of the tenants had hired a commissioning provider, I welcomed the idea. It was here that I met Tim Shukri, Cornerstone's New England Director of Commissioning Services, and his team. Once again, my attitude toward commissioning was changed.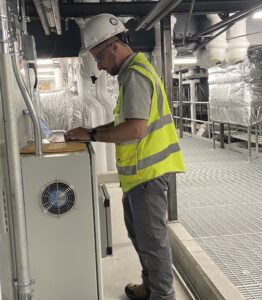 While I was a proponent for the value of commissioning, I loathed the paperwork I was usually stuck with. Inevitably, someone would drop a binder full of checklists on my workstation. These binders were full of questions and, for me, question marks. Some of what was being asked did not pertain to my trade or the systems we were installing. A lot of time was wasted looking for answers that did not apply. I never felt confident that the information we were providing was really needed. When I found out that Tim and his team completed their own checklists, I was impressed and relieved. Cornerstone was on site more than I had ever seen another commissioning provider. Their involvement in the early stages of the job helped us catch mistakes before they caused bigger problems. I grew to know them and trust them. Best of all, my team's workload did not increase. In fact, my team got larger.
"It is literally true that you can succeed best and quickest by helping others to succeed."
–Napoleon Hill
Past blogs on this site have mentioned the importance of Cornerstone's approach on "Pre-functional Checklist" documentation. As a former installer, I whole heartedly agree with having the commissioning provider complete this documentation. From my nearly two decades of experience, Cornerstone's willingness to go the extra mile and take on this effort is best for everyone on the job. The installers are not saddled with work they either did not expect or do not understand. Cornerstone's continued on-site presence gives them more opportunities to familiarize themselves with the building, the equipment, and the construction team. Management does not have to chase down unfinished checklists and play go-between with the construction team and the commissioning provider. Lastly, the owner benefits from having the documentation managed by the people who have prepared it and understand it best.
Today I am a Commissioning Specialist at Cornerstone Commissioning. My experience with commissioning in general made me believe that it is an integral part in giving a client the building that they envisioned. My experience with Cornerstone has made me believe that we have the best practices to achieve this as we collaborate with the whole project team.