If you're familiar with commissioning, then you know that the commissioning provider's job is to be a third-party representative working directly for the owner to ensure that commissioning is unbiased, follows best practices, and helps achieve the owner's project requirements. The commissioning provider (CxP) is responsible for assisting the project team during all phases of a project to ensure success, and here's the key: they must remain independent of the design and construction team for objectivity reasons.
Commissioning Documentation is Best Completed by the Cx Provider, Not by the Contractors
The commissioning process requires the CxP to create checklists to document the completion of equipment installation, and make sure it matches submittal and contract document details. In most commissioning firms, these pre-functional or construction checklists (PFCs) are then turned over to members of the construction team, who pass them on to subcontractors. The subcontractors then require their installation contractors to complete the PFCs and return the commissioning documentation for review. Does that seem unbiased? We don't think so.
Not only isn't it unbiased, it also creates a headache for the commissioning provider who then has to hunt down construction project team members to review and confirm documentation.
When contractors are responsible for completing commissioning documentation, the owner is not benefiting from the true value of commissioning. On the other hand, when the CxP completes commissioning documentation, it's their responsibility to fully understand equipment selection and specifications, manufacturer installation requirements, design details, recognize future access limitations, and detail their findings in a clear and concise manner. The documentation and any concern or issues identified are then provided to the project team for review during commissioning coordination meetings.
Additional benefits of having the CxP perform PFC documentation:
deficiencies can be found and resolved more quickly,
the CxP develops a level of trust with the contractors,
documentation provides greater detail, and
the project team can enter the acceptance phase with confidence in the unbiased quality control that good commissioning provides.
Contractors work on jobs day to day for months at time, so having a fresh set of eyes reviewing the installation details often identifies errors or omissions that were missed or overlooked.
So What Role, If Any, Should Contractors Have in the Commissioning Process?
Contractors should provide the necessary equipment and start-up documents to the CxP, be available during PFC site visits, and make the necessary repairs when equipment installation is at odds with design.
Completing Commissioning Documentation Is Not As Easy As It Looks
Good commissioning requires having a thorough database of mechanical equipment types such as boilers, air handlers, cooling towers, expansion tanks, and every conceivable piece of MEP equipment in a commercial facility. It also requires knowledge of engineering best practices and facilities operation to help ensure system selection will achieve the owner's project requirements.
An experienced CxP uses design details from the contract drawings, as well as any customized installation best practices for each piece of equipment, to accomplish this.
Examples include:​​
confirming the equipment has isolation valves for servicing,
disconnects are labeled and accessible,
pipe fittings are properly supported,
protective shrouds are installed, and
piping allows for coil changes.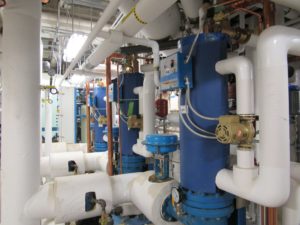 It's a long list for each type of equipment. This level of detail extends to functional testing documentation, as well.
Completing commissioning documentation can be arduous, even for a seasoned CxP!
Imagine now how a contractor is expected to find time to accurately document each piece of equipment when they have a long list of other responsibilities for the project. Efficiency, accuracy, unbiased opinion, comprehensive verification — these are just some of the reasons why Cornerstone Commissioning insists on completing commissioning documentation.
Does Having the CxP complete Commissioning Documentation Add Cost to a Project?
Not if the contractors are made aware well in advance, and the Owner is savvy. While it's true that performing commissioning this way adds scope and cost to the commissioning budget, that cost should be offset by contractors offering a deduct when they learn they no longer have to do the commissioning documentation themselves. The best practice is to announce this process to contractors during the pre-bid meeting and include it in the specifications so contractors don't allocate budget to it in the first place.
The Bottom Line
Most contractors, upon hearing they're off the hook for completing commissioning documentation, are fully on-board. Installers are glad to have the time to focus on their work, and best of all, owners are reassured that their project is commissioned by a dedicated professional who is passionate about the performance of their completed facility.
The next time you have an important project that includes commissioning, make sure your CxP is the one completing the commissioning documentation.